We're in the home stretch. There's still a lot of work to be done, but we're almost there and have an open date: Friday March 1st.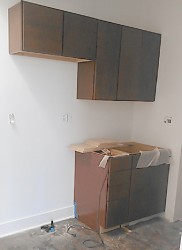 The cabinets have been installed and the counter-tops templated. Now we're waiting on the counter-top fabrication. Once the counter-tops are installed we can install all the new plumbing fixtures (sinks, faucets, etc.)
In the meantime, we're installing the interior glass – a couple doors and interior windows to make the space more light and airy.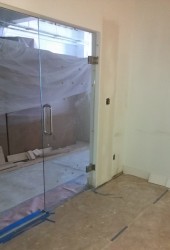 The lockers have arrived. The new lighting we ordered should be here soon.
To see how far the space has come, below are a couple work-in-progress shots of the second floor coworking space from November 2012 and January 2013.
We'll be having various opening events that are FREE and open to the public: Happy Drawing Hour (Friday, March 1, 4-7pm) and Sew Good (Saturday, March 2, 1-4pm).