Tuesday, November 18, 6:30-7:30
Bicycling is a great way to get around the city. Come learn how to do it safely. The SF Bicycle Coalition will tell you about some rules of the road, how to navigate the city, safe locking tips, and resources for people who bike in the city. This class is offered free and open to everybody. More information here.
Register here.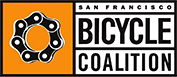 For or over 40 years, the San Francisco Bicycle Coalition has been transforming San Francisco streets and neighborhoods into more livable and safe places by promoting the bicycle for everyday transportation. We are one of the largest and most effective advocacy groups in the country. Through our day-to-day advocacy, education and working partnerships with City and community agencies, the SF Bicycle Coalition creates safer streets and more livable communities for all San Franciscans.