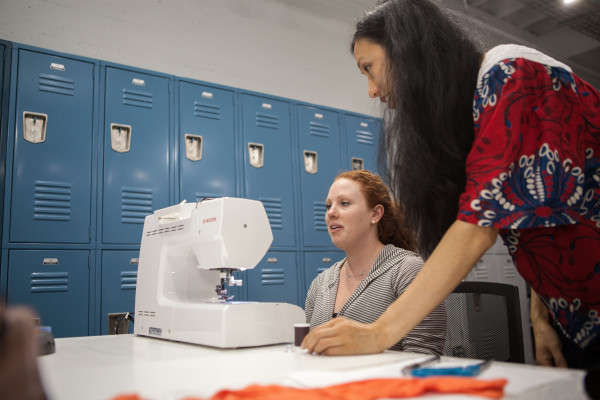 Every Tuesday 6:30-9pm
$20 ($15/class for three or more classes)
$15 SHARED members
Stuck on a sewing project? Want to learn how to use your sewing machine?
Sew Good is an all-levels sewing class taught by award-winning fashion designer, Marilyn Yu. Come learn how to sew or improve your skills.
Email Marilyn to sign up: marilyn@shared-sf.com
Details:
Class size limited to four students.
24-hour cancellation notice is required, or a $10 fee is levied.
 A confirmation email from Marilyn is a courtesy. The participant is responsible for keeping their reservation with or without a confirmation email.
FAQ's
Q: What do I bring to class?
A: Bring whatever you are working on and your sewing tools and equipment.
Q: What level is this class?
A: Sew Good is open to all levels. It is a self-directed class. I teach whatever you want to learn.
Q: I have never sewn before and want to learn how to use my sewing machine. What should I bring?
A: You should bring your sewing machine, a pair of fabric scissors, a pair of thread scissors, seam ripper, needle, thread, about half a yard of woven fabric, and something to fill fabric weights (at least 2 lbs of beans or rice are good). You will learn how to thread your machine, make a few different stitches, and sew some fabric weights and a pin cushion.
Q: I don't have a sewing machine, but still want to learn how to use one. Do you have any to rent?
A: There's a SHARED member who keeps his sewing machine (Singer) at SHARED and is willing to lend it to people for class for $5. You will need to bring your own needles, bobbins, and thread.
Q: What sewing machines do you recommend?
A: Older sewing machines are great (Flea markets, Craigslist, or eBay are good places to find used machines). They are better quality than new ones because they have more metal parts. This makes them a little heaver though.
Newer machines are lighter and easier to transport because they have lots of plastic parts. The parts may break more easily though. I would also recommend getting as simple a machine as possible. Many new machines have fancy electronics people don't really need and are very expensive to fix when something breaks. You should spend $100-$200 on a new machine.
Q: I want to make something from a pattern. How do I buy a pattern?
A: Most fabric stores sell patterns. You will find a larger selection of patterns on-line though. Be sure to measure yourself (circumference of bust, waist, and hips). Each company does sizing differently, so you will need to figure out what size you are in their scale. 2) Look through the pattern books/catalog for a pattern that you like. Some will say how difficult they are. Pick one that is your skill-level. 3) The pattern will tell you how much fabric and what kind you will need. 4) Be sure to get the notions as well (i.e. zippers, buttons).